2023 - Optomécanique & NanophoNonique
Thematic school 2023
Optomechanics & NanophoNonics
The Houches Physics School, France, April 17- 28 2023
The study of the interaction between photons and phonons is a rapidly developing research field. Initially, it emerged to answer fundamental questions about thermal properties, nanomechanics, and quantum measurements. These questions constitute today the basis for new studies feeding fundamental and technological challenges.
This school aims to overview this interdisciplinary field by treating quantum concepts and effects, simulation, sensors, metrology, and ultra-sensitive detection among other fundamental effects and applications.
Ecoles thématiques 2023
Optomécanique & NanophoNonique
Ecole de Physique des Houches, du 17 au 28 Avril 2023
L'étude de l'interaction entre photons et phonons est un domaine de recherche en plein essor. Il a initialement émergé pour répondre à des questions fondamentales sur les propriétés thermiques, la nanomécanique et les mesures quantiques. Ces questions constituent aujourd'hui la base de nouvelles études nourrissant des enjeux fondamentaux et technologiques.
Cette école vise à donner un large aperçu de ce domaine interdisciplinaire en traitant à la fois les concepts et effets quantiques, les simulations, l a détection ultra-sensible, la métrologie parmi d'autres effets et applications fondamentaux.
Registration fee : 1600€
The school is a limited number of 70 participants.
Schedule
First Submission campaign : until november 22, 2022 (Closed)
Second submission campaign : until december 06, 2022 (Closed)
Third submission campaign : until February 21, 2023 ( Waiting List)
Answer to candidates : Janaury 16th, 2023


Registration campaign : from January 16th to February 21th 2023

If you did not receive the email for
- January 16 (Main list) or
- Februry 6 (waiting list))
Please check your spam folder before contacting us.
Lecturers
Yiwen CHU (ETH Zurich – CH)
Ivan FAVERO (CNRS - Université Paris-Cité - MPQ - FR)
Christophe GALLAND (EPFL - CH)
Gabriel HÉTET (LPENS - FR)
Florent LECOCQ (NIST - USA)
Jérémie MARGUERITAT (ILM - Lyon - FR)
Andreas NUNNENKAMP (University of Vienna – AT)
Samuel RAETZ (Université Le Mans – FR)
Peter RAKICH (Yale University - USA)
Paulo SANTOS (Paul Drude Institute - Berlin – GE)
Albert SCHLIESSER (Niels Bohr Institute - DK)
Birgit STILLER (Max Planck Institute – GE)
Laura THEVENARD (CNRS- Sorbonne Université, INSP - FR)
Ewold VERHAGEN (AMOLF – NL)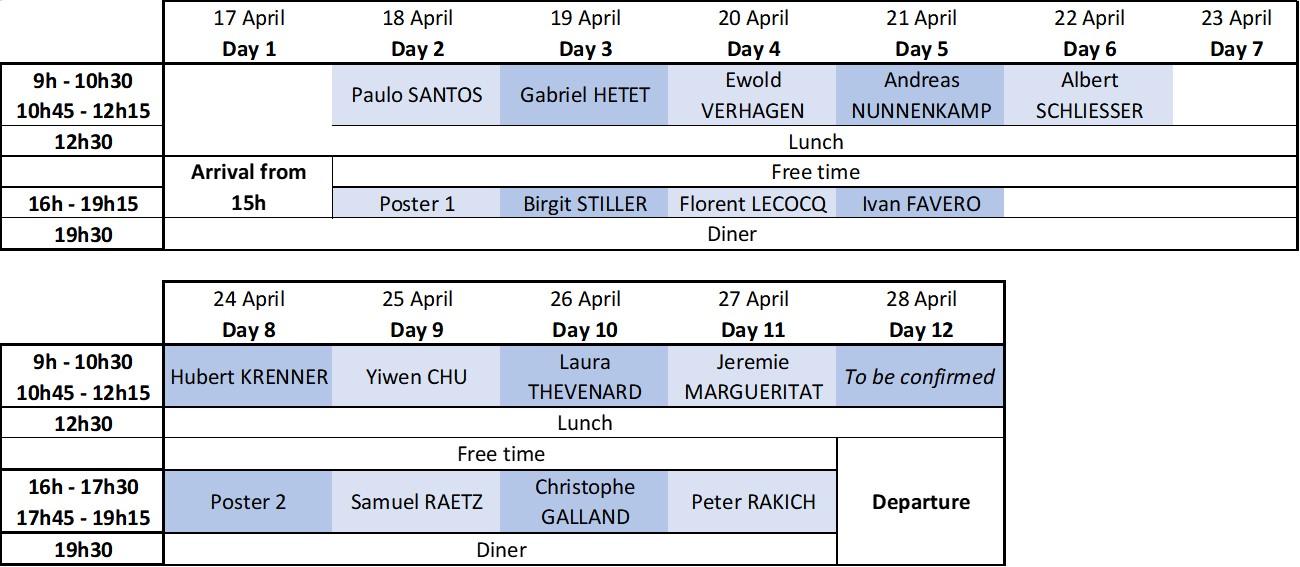 Sponsoring
2023 SFO THEMATIC SCHOOL - COMMERCIAL SPONSORSHIP OFFER | VISIBILITY OF YOUR COMPANY
Deadline for application : November, 22th, 2022
With a short motivation letter (200 words max) and a short CV presenting your research activities and your Scientific abstract.
The school starts on Tuesday April 18th,
Monday April 17 for an arrival in the afternoon, and lasts till Friday April 28, at noon.
On-site registration opens on Monday April 17th, from 2pm.