Accueil

/

EXCITONICS Thematic School
EXCITONICS for PHOTONIC APPLICATION
INTERNATIONAL THEMATIC SCHOOL
EXCITONS in LOW-DIMENSIONALITY / DISORDERED SEMICONDUCTORS AND THEIR APPLICATIONS IN THE DETECTION and EMISSION OF LIGHT
Ecole de Physique des Houches, 16-27 april 2018
The French Optical Society (Société Francaise d'Optique) is happy to announce a new series of annual international thematic schools devoted to hot topics in optics and photonics, held every year at Les Houches School of Physics.

The first school of this new series addresses the burgeoning field of excitonics, understood here as the science and engineering of excitons in disordered and low dimensionality semiconductors (organic semiconductors, hybrid perovskites, colloidal semiconductor nanoparticles).

These materials have two aspects in common. First, excitons play a key role in light/matter interactions and are the relevant conceptual objects to understand their opto-electronic properties. Second, from a more technical point of view, these materials can be solution-processed.
"Excitonic materials" hence offer the promise to build photonic and optoelectronic devices with low cost processing techniques, that are useful either as alternatives to classical semiconductors (for Photovoltaic generation or solid-state lighting and displays), or as key enablers for novel applications with excitonic lasers, sensors or scintillators for instance.

The program will address 3 major questions:
1) What are excitons and how to investigate them ? Modelling, theoretical and experimental tools
2) What are the properties of excitonic materials ? Special focus will be given to hybrid perovskites, organic semiconductors, 2D semiconductors, colloidal quantum dots.
3) How to design and characterize excitonic devices ?

This international school will be a unique opportunity to gather, during 2 weeks (16-27 April 2018), a dozen of world renowned speakers and top research leaders in their fields with students, post-docs, researchers, or research engineers, with no restriction of nationality, status, or scientific background.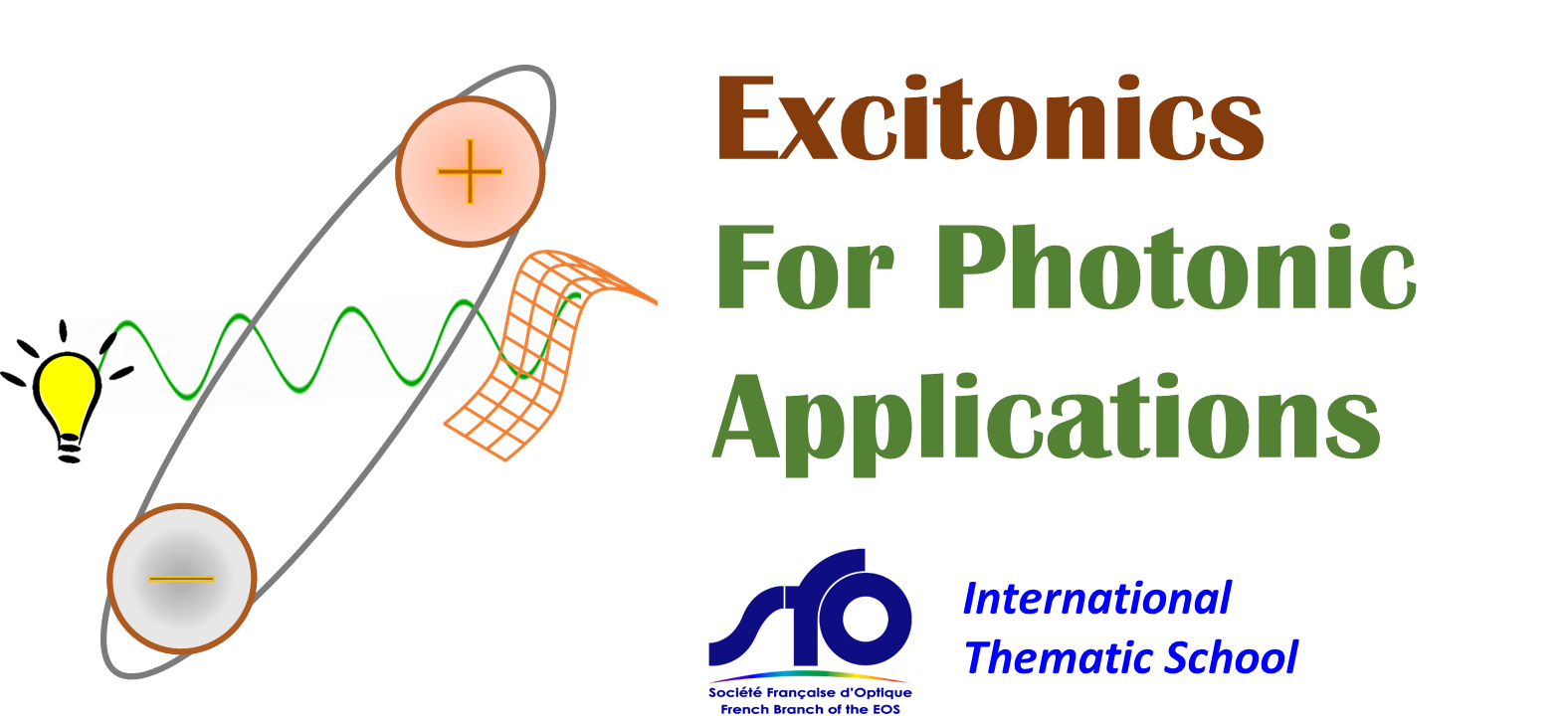 Scientific Committee
Sébastien Chénais (Université Paris 13, Villetaneuse)
Emmanuelle Deleporte (Ecole Normale Supérieure Paris Saclay, Cachan)
Damien Garrot (Université Versailles Saint-Quentin)
Riad Haïdar (ONERA, Palaiseau)
Lionel Hirsch (IMS, Bordeaux)


Les Houches is a village located in Chamonix valley, in the French Alps.
Established in 1951, the Physics School is situated at 1150 m above sea level in natural surroundings, with breathtaking views on the Mont-Blanc mountain range.
Les Houches Physics School is affiliated with Université Joseph Fourier Grenoble I (UJF) and is funded by the UJF, the Centre National de la Recherche Scientifique (CNRS) and the Direction des Sciences de la Matière of Commissariat à l'Energie Atomique (CEA/DSM).
Ecole de Physique des Houches, Côte des Chavants, F-74310 Les Houches, France.
https://www.houches-school-physics.com/